The Goldschmidt 2020 Virtual Workshop: 
Applications of isotope tracers to geochemical kinetics studies.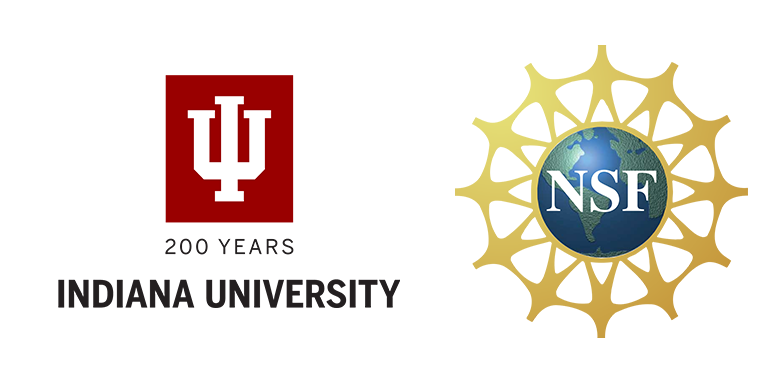 Support
Chen Zhu's research on the isotope tracer method has been funded by the US National Science Foundation, the endowment for the Haydn Murray Chair, and Indiana University.
Acknowledgement is also due to a summer visiting professorship at the French National Center for Scientific Research (CNRS) in Toulouse. The co-authors of the publications received their funding for their part from their funding sources.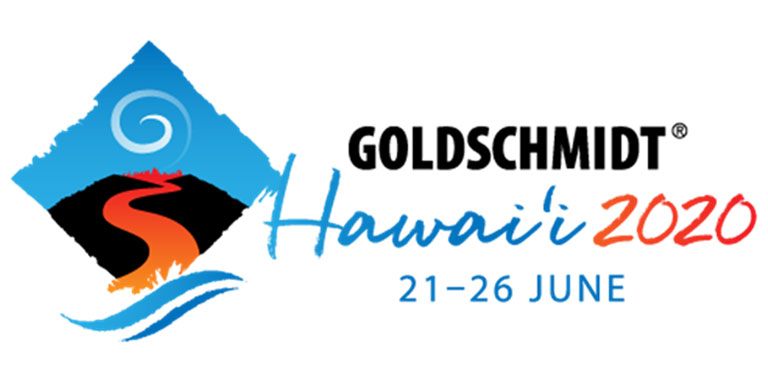 Program Information
Workshop Conveners
Chen Zhu, Indiana University, USA
Jim Kubicki, University of Texas, El Paso, USA
With other possible contributors
Workshop Title
"Applications of isotope tracers to geochemical kinetics studies"
Visit the conference site
The Isotope Tracer Method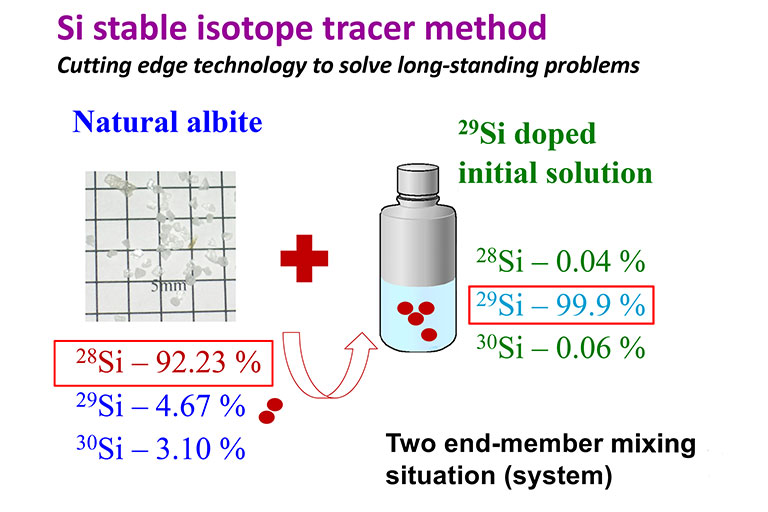 The isotope tracer method promises detection that is orders of magnitude more sensitive than the conventional method that uses concentrations (e.g., Si, Al) to measure reaction rates. The method introduces an enriched rare isotope of an element to an experimental solution that is interacting with a mineral or a suite of minerals that have normal or natural isotopic compositions (see graph below). This method promises to measure rates near-equilibrium, near-neutral pH, at ambient temperature, and unidirectional reaction rates. Because the precipitation of the isotopes into secondary phases does not noticeably change the isotopic ratios of the fluids (the fractionation effect is negligible in heavily spiked systems), dissolution rates can still be measured when secondary phase precipitation takes place. This means that now we can measure reaction rates near natural system conditions.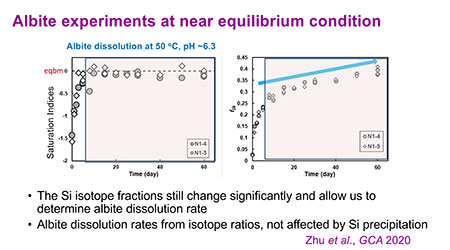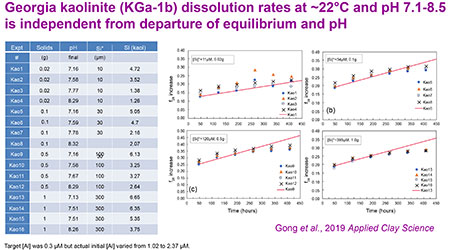 The method itself is not new. Geochemists have employed this method since the early 1990s and biologists have employed it much earlier. Gaillardet (2008) gave an excellent review of this method and pointed out its potential. In the last 15 years, MC-ICP-MS technologies now make the measurement of many non-traditional isotopes accessible, which makes this method more promising. Please see the reading list below.
The objective of this workshop is to impart the methods and skills of designing, preparing, and interpreting experiments. These experiments are very simple to conduct and interpret. Recently, we have shown Q-ICP-MS is sufficient for measuring the Si isotope ratios in these type of heavily-spiked experiments (Zhang et al., 2019). MC-ICP-MS analysis of Si isotopes will also be available at Indiana University. At the workshop, we will walk the participants through and distribute an Excel template for data reduction and rate calculations.
Beck, J.W., Berndt, M.E., and Seyfried Jr, W.E., 1992. Application of isotopic doping techniques to evaluation of reaction kinetics and fluid/mineral distribution coefficients: An experimental study of calcite at elevated temperatures and pressures. Chemical Geology, 97(1–2):125-144.
Curti, E. et al., 2010. Radium uptake during barite recrystallization at 23 +/- 2 degrees C as a function of solution composition: An experimental Ba-133 and Ra-226 tracer study. Geochimica et Cosmochimica Acta, 74(12):3553-3570.
DePaolo, D.J. (2011) Surface kinetic model for isotopic and trace element fractionation during precipitation of calcite from aqueous solutions. Geochimica et Cosmochimica Acta 75:1039-1056.
Gaillardet, J. (2008) Isotope geochemistry as a tool for deciphering kinetics of water-rock interaction, in: Brantley, S.L., Kubicki, J.D., White, A.F. (Eds.), Kinetics of Water-Rock Interaction. Springer, New York.
Gin, S., Jollivet, P., Fournier, M., Angeli, F., Frugier, P. and Charpentier, T. (2015) Origin and consequences of silicate glass passivation by surface layers. Nature Communications 6:1-8.
Gong, L., Rimstidt, J., Zhang, Y., Chen, K., and Zhu, C. (2019) Unidirectional kaolinite dissolution rates at near-equilibrium and near-neutral pH conditions. Applied Clay Sciences 182:105284.
Gruber, C., Harpaz, L., Zhu, C., Bullen, T.D., Ganor, J., 2013. A new approach for measuring dissolution rates of silicate minerals by using silicon isotopes. Geochimica et Cosmochimica Acta 104(0): 261-280.
Gruber C., Zhu C., Georg, R.B., Zakon, J., and Ganor, J. (2014) Resolving the gap between laboratory and field rates of feldspar weathering. Geochimica et Cosmochimica Acta 147:90–106, DOI
Liu, Z., Rimstidt, J.D., Zhang, Y., and Zhu, C., 2016. A stable isotope doping method to test the range of applicability of detailed balance. Geochemical Perspectives Letters, 2:78-86.
Seimbille, F., Zuddas, P., and Michard, G., 1998. Granite–hydrothermal interaction: a simultaneous estimation of the mineral dissolution rate based on the isotopic doping technique. Earth and Planetary Science Letters 157(3–4):183-191.
Subhas, A.V., Adkins, J.F., Rollins, N.E., Naviaux, J., Erez, J. and Berelson, W.M. (2017) Catalysis and chemical mechanisms of calcite dissolution in seawater. Proceedings of the National Academy of Sciences of the United States of America 114:8175-8180.
Zhang, Y.L., Gong, L., Chen, K.Y., Burkhart, J., Yuan, H.L., and Zhu, C. (2019) A method for Si isotope tracer kinetics experiments:  Using Q-ICP-MS to obtain 29Si/28Si ratios in aqueous solutions. Chemical Geology 531 DOI
Zhu, C. et al., 2016. Measuring silicate dissolution rates using Si isotope doping. Chemical Geology 445:146-163.
Zhu C, Rimstidt JD, ‡Zhang YL, ‡Kang JT, Yuan HL (2020). Decoupling feldspar dissolution and precipitation rates at near-equilibrium with Si isotope tracers: Implications for modeling silicate weathering. 271:132-153. Geochimica et Cosmochimica Acta. DOI
Zuddas, P., Seimbille, F., Michard, G., 1995. Granite-fluid interaction at near-equilibrium conditions: experimental and theoretical constraints from Sr contents and isotopic ratios. Chemical Geology 121(1):145-154.